Our kitesurfing center exists from 2008 in Dahab, Egypt. Now it is the most popular center in this region. In 2012 we have opened one more our school in Greece, Kos, Kefalos
Our centre offers facilities for all kinds of kiterboarders. Lessons with English, Russian, & Italian speaking instructors, rental of newest equipment – RRD – all range, IKO certificates, chill-out, sweet water, Wi-Fi Internet. Located at the beautiful village Kefalos – 20 minutes far away from Kos airport.
Here we are! To all the wind addicted, welcome to our new Happy Kite center in magic Greece!
Let me drive you briefly through the Kos island's best spots and the life style that this little corner of paradise can offer.
I ought to remind you though that the journey must begin putting on your sunglasses because the sun is never going to stop shining! From dawn till dusk, with the variety of all the tones that your mind can imagine.
Once landed – and worn sunnies – get ready to head to Kefalos, the most windy and stunning bay of the island, located in the timeless South West side. On the main road along the seaside, before reaching the village up the hill, you'll notice the well-known yellow and blue Happy Kite flag and the RRD one, pointing our centre that overlooks a long white soft sandy beach.
Step inside, feel free to be yourself, join the team, catch the wind in our super flat water, sit and get some drinks from the snack bar or post some pictures with our free wi-fi to make all your friends envious.
Since the wind basically never stops blowing, if you think 10 hours riding per day are too many, you may get a quad or a dune buggy to explore the off-road trails and enjoy the rural landscape of the country side. You will understand then why the local food is so delicious, just taken and prepared mostly from family farms.
I'd say don't hesitate, in the evening sit in one of the many taverns to experience some true Greek atmosphere…as the old times! You can move later to some all night long music pubs.
Of course the day after the wind is ready to wake you up in time to give you other unforgettable riding sessions. The good thing is that close by the station there are some other interesting beaches, especially the 3 km far Kohilari "paralia" (beach in Greek) where the on/cross-on shore wind direction and 50 mt shallow water provide the safetiest conditions to teach or practise for beginners but the small waves also provide the best ramp to enhance the jumps height for the more experienced or to train some surfing manoeuvres strapless! Dunes and pure nature surround this spot, together with the heady scent of all the spices plants which frame the usual Mediterranean vegetation (thyme, oregano, rosemary, sage…).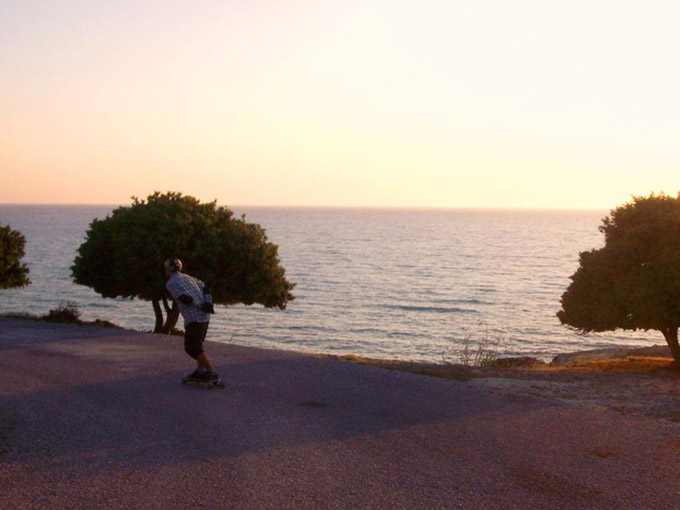 For whom more keen to drive around we can follow you to other spots in the North coast (Marmari, Tigaki) or further East (Psalidi), or bring the bravests to some undiscovered beaches.
And what about a great downwind trip? Let's talk about it once you will get here!
Some other useful information:
-Opening season: from May to October
-Kite lessons in English Italian and Russian with IKO certified instructors
-Very large riding area
-Rental 2012 equipment from RRD brand
-Level of riding: Beginner, Intermediate, Professional.
-Tide effect: none
-Water temperature: between 22 and 26 degrees. Depending on the month a shorty (2mm) or just lycra for sun protection can be needed
-Water condition: flat spot (off/cross-off shore), wave spot (on/cross-on shore)
-Beach: sandy or small pebble on the East side
-Wind direction and speed: called Meltemi, blows from N-N/W up to 6 Beaufort
We can organize transfers from the airport or helping you booking accommodations for your staying, just few meters from our station!
Any further questions can be emailed to greece@happy-kite.com